About CoRespond Emerging Topics
About CoRespond Emerging Topics
CoRespond Emerging Topics
Compiled by the UC San Diego Earth2.0/COVID-19 Response team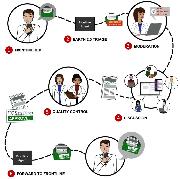 The UC San Diego Earth2.0/COVID-19 Response is a multidisciplinary effort to respond to the COVID-19 global pandemic. As part of that effort, the agile response hotline CoRESPOND allows rapid communication from front-line providers and researchers who need help, to appropriate groups who then mobilize to crowdsource, research, vet, summarize and re-distribute findings in a timely fashion back to the end-user. The hotline fields a range of questions ranging from engineering problems to PPE to ethics and clinical research. As questions are identified through the COVID hotline (covid-help@ucsd.edu), our team of contributor get to work. Questions are posted to the group - those with time, interest and expertise then take up questions, and do the back research necessary to generate a summary document which is then not only sent back to the initial user, but then catalogued for future reference. Many articles are also translated - we now have articles in spanish, portuguese, and french! As the COVID pandemic goes on, the needs of the community change, and we will work to adjust and respond.
Notices and Disclaimers
CoRespond Emerging Topics is compiled by the UC San Diego Earth2.0/COVID-19 Response team.
All Content copyrights are reserved by their respective owners.
The Unbound™ software platform is copyright © 2000-2020 Unbound Medicine, Inc. All rights reserved.
The user is receiving only a limited right to use the Content and Unbound Platform (jointly referred to as the "Service") for user's own internal or personal use. The user may not reproduce, forward, modify, create derivative works based upon, transmit, distribute, disseminate, sell, publish or sublicense the Service or in any way commingle the Service with other third party content, without Publisher's or Unbound Medicine's consent.
Disclaimer of Warranties
THE SERVICE IS PROVIDED ON AN "AS IS" BASIS. NEITHER PUBLISHER, UNBOUND MEDICINE NOR ITS LICENSORS MAKE ANY GUARANTEES OR WARRANTIES OF ANY KIND, EITHER EXPRESS OR IMPLIED, INCLUDING, BUT NOT LIMITED TO, IMPLIED WARRANTIES OF MERCHANTABILITY OR FITNESS FOR A PARTICULAR PURPOSE OR USE AS TO THE SERVICE OR THE INFORMATION THEREIN OR ANY WARRANTIES AS TO THE ACCURACY, COMPLETENESS, CURRENTNESS, OR RESULTS TO BE OBTAINED FROM, ACCESSING OR USING THE SERVICE, OR ANY MATERIAL REFERENCED IN SUCH SERVICE OR ANY INFORMATION ENTERED INTO THE SERVICE BY USERS OR OTHER PERSONS AND/OR ANY MATERIAL AVAILABLE ON OR THAT CAN BE ACCESSED THROUGH THE SERVICE (INCLUDING VIA ANY HYPERLINK OR OTHERWISE) OR AS TO NON-INFRINGEMENT OF THIRD PARTY RIGHTS. ANY WARRANTIES OF ANY KIND, WHETHER EXPRESS OR IMPLIED, ARE DISCLAIMED. ANY MATERIAL OR DATA OBTAINED THROUGH USE OF THE SERVICE IS AT YOUR OWN DISCRETION AND RISK AND USER UNDERSTANDS THAT IT WILL BE SOLELY RESPONSIBLE FOR ANY RESULTING DAMAGE TO ITS COMPUTER SYSTEM OR LOSS OF DATA.
Disclaimers
MEDICINE IS AN EVER-CHANGING SCIENCE. AS NEW RESEARCH AND CLINICAL EXPERIENCE BROADEN OUT KNOWLEDGE, CHANGES IN TREATMENT AND DRUG THERAPY ARE REQUIRED. IN VIEW OF THE POSSIBILITY OF HUMAN ERROR OR CHANGES IN MEDICAL SCIENCES, NEITHER PUBLISHER, UNBOUND MEDICINE NOR ITS LICENSORS WARRANTS THAT THE INFORMATION CONTAINED IN THE SERVICE IS IN EVERY RESPECT ACCURATE OR COMPLETE, AND THEY ARE NOT RESPONSIBLE FOR ANY ERRORS OR OMISSIONS OR THE RESULTS OBTAINED FROM THE USE OF SUCH INFORMATION. USERS ARE ENCOURAGED TO CONFIRM THE INFORMATION CONTAINED IN THE SERVICE WITH OTHER SOURCES. FOR EXAMPLE, AND IN PARTICULAR, USERS ARE ADVISED TO CHECK THE PRODUCT INFORMATION SHEET INCLUDED IN THE PACKAGE OF EACH DRUG THEY PLAN TO ADMINISTER TO BE CERTAIN THAT THE INFORMATION CONTAINED IN THE PUBLISHER CONTENT IS ACCURATE AND THAT CHANGES HAVE NOT BEEN MADE IN THE RECOMMENDED DOSE OR IN THE CONTRAINDICATIONS FOR ADMINISTRATION. THIS RECOMMENDATION IS PARTICULARLY IMPORTANT IN CONNECTION WITH NEW OR INFREQUENTLY USED DRUGS. NEITHER PUBLISHER NOR ITS LICENSORS SHALL BE LIABLE TO SUBSCRIBER OR TO ANY USER OR ANYONE ELSE FOR ANY INACCURACY, DELAY, INTERRUPTION IN SERVICE, ERROR OR OMISSION, REGARDLESS OF CAUSE, OR FOR ANY DAMAGES RESULTING THEREFROM.
Limitation of Liability
IN NO EVENT WILL PUBLISHER, UNBOUND MEDICINE OR ITS LICENSORS, BE LIABLE FOR ANY INDIRECT, SPECIAL OR CONSEQUENTIAL DAMAGES, INCLUDING BUT NOT LIMITED TO, LOST TIME, LOST MONEY, LOST PROFITS OR GOOD WILL, WHETHER IN CONTRACT, TORT, STRICT LIABILITY OR OTHERWISE, AND WHETHER OR NOT SUCH DAMAGES ARE FORESEEN OR UNFORESEEN ARISING FROM OR RELATING TO: (i) YOUR USE OF THE SERVICE OR USE OF THE SERVICE THROUGH YOUR ACCOUNT BY ANYONE ELSE; (ii) THE COST OF PROCUREMENT OF SUBSTITUTE DATA, INFORMATION OR SERVICES; (iii) UNAUTHORIZED ACCESS TO OR ALTERATION OF YOUR TRANSMISSIONS OR DATA; OR (iv) ANY OTHER MATTER RELATING TO THE SERVICE. UNBOUND'S TOTAL CUMULATIVE LIABILITY TO YOU AND ANYONE WHO USES THE SERVICE THROUGH YOUR ACCOUNT, FOR ANY AND ALL CLAIMS UNDER ANY THEORY OF LAW, WILL NOT EXCEED THE UNUSED PORTION OF FEES PAID FOR THE SERVICE. IF, NOTWITHSTANDING THE OTHER TERMS OF THIS AGREEMENT, UNBOUND SHOULD HAVE ANY LIABILITY TO YOU OR ANY THIRD PARTY FOR ANY LOSS, HARM OR DAMAGE, YOU AND UNBOUND AGREE THAT SUCH LIABILITY SHALL UNDER NO CIRCUMSTANCES EXCEED THE LESSER OF $1,000 OR THE FEES YOU PAID US DURING THE THREE (3) MONTHS IMMEDIATELY PRECEDING THE DAY THE ACT OR OMISSION OCCURRED THAT GAVE RISE TO YOUR CLAIM. YOU AND UNBOUND AGREE THAT THE FOREGOING LIMITATION OF LIABILITY IS AN AGREED ALLOCATION OF RISK BETWEEN YOU AND US AND REFLECTS THE FEES, IF ANY, UNBOUND CHARGE YOU TO USE THE SITE AND THE SERVICES. YOU ACKNOWLEDGE THAT ABSENT YOUR AGREEMENT TO THIS LIMITATION OF LIABILITY, UNBOUND WOULD NOT PROVIDE THE SITE OR SERVICES TO YOU.