COVID-19 susceptibility and gender
Clinical Question
What is the association between gender and COVID-19 susceptibility/severity of disease?
Key Findings
Several sources report higher incidence of severe COVID-19 disease and higher mortality in males compared to females.
There are multiple hypotheses for the gender difference in severity, including smoking status, estrogen receptors, and other comorbidities.
Summary of Information
What is the difference in incidence between males and females?
Several sources report higher incidence of severe COVID-19 disease in males than in females. In a meta-analysis of nine studies, men accounted for 60% of COVID-19 patients (95% CI [0.54, 0.65]).
Males may also have increased severity of disease and mortality.

A retrospective study of 191 patients (62% male, 38% female) hospitalized in Wuhan for confirmed SARS-CoV-2 infection found 54 died of which 70% were male, while 137 survived of which 59% were male.[1]
A similar pattern of male-predominant mortality at all age groups was observed in a study from the Higher Health Institute of Rome. Chart below shows the number of deaths by age group. The Higher Health Institute of Rome analysis of 25,058 cases found that 8% of male patients died compared to 5% of female patients (Donne=women in blue, Uomini=Men in orange, Tutti=All in grey).


In China, the death rate for men was 2.8 percent, compared to 1.7 percent for women.[2]
A report from the Korean Society of Infectious Diseases reports higher incidence of infection in women: 62.3% of total cases in the country were female. However, in Gyeonggi-do province they found 59.1% of patients were male. They attribute the total higher incidence in women to outbreaks associated with religious groups in Daegu, which had the highest number of cases.[3]
Spain: Based on analysis of 20,648 cases as of late March from Institute of Health Carlos III: Men have more severe disease: 60% of progression to PNA, 59% of hospitalizations, 72% of ICU admits, 65% of deaths.[4]
USA: Washington Post analysis of 1000 deaths in the USA: 60% male (of those whose gender was disclosed).[4]
NEJM correspondance: New York City: First 393 consecutive patients admitted to two hospitals in New York City. Males represented 60.6% of all patients, and 70.8% requiring invasive mechanical ventilation.[5]
UK: Males have higher mortality rate than females at all age groups. From Office for National Statistics, UK.[6]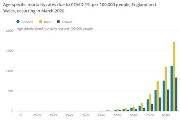 Why may there be a difference in COVID-19 susceptibility based on gender?
In China, over half of all men smoke, compared to less than 3% of women. In Italy, almost 30% of men smoke compared to 19% of women.[2] In the US, the smoking gap is smaller with 17.5% of men smoking and 13.5% of women smoking.
A preprint study of gene expression data from publicly available data (TCGA, GEO) compared ACE2 (receptor through which SARS-COV-2 enters cells) expression in Asian and Caucasian smokers vs nonsmokers, and found higher ACE2 expression in Asian smoker lungs.[7]
ACE2 receptor differences
A hypothesis in preprint[8]: Could higher ACE2 receptor expression in testes provide a reservoir for SARS-CoV-2 and explain slower rate of viral clearance observed in males?
68 symptomatic patients were followed by nasopharyngeal viral load by RT-PCR in Mumbai, India for viral clearance. Females cleared virus about 2 days prior to male counterparts.
Some studies have shown that men are less likely to wash their hands which could increase the risk of infection.[9]
Men develop cardiovascular disease and hypertension at younger ages than women. Both of these conditions increase the potential for severe disease.
Role of Estrogen and MERS/SARS data
Estrogen receptor signaling may play a protective role for women.
One study infected male and female mice with SARS-CoV and found that male were more susceptible to infection than age-matched females.[11] Furthermore, they found that the degree of sex bias to SARS-CoV infection increased with advancing age. The same study also found that ovariectomy or treating female mice with an estrogen receptor antagonist increased mortality, indicating a protective effect of estrogen signaling.
Estrogens are known to suppress monocyte-macrophage recruitment by downregulating CCL2 expression during inflammation and inhibiting TLR4-mediated NFk\uD835\uDEC3 activation in macrophages by suppressing micro-RNAs.[12][13]
Similar to the finding above in mice that sex became a larger risk factor with increasing age for SARS-CoV, Italy's COVID-19 numbers have shown an increased risk for men age 50 and older with no gender difference observed at younger ages.
Author Information
Authors: Tally Buckstaff MS4, Priya Nayak PhD/MS4, UC San Diego School of Medicine
Completed on: March 24, 2020
Last updated on: April 19, 2020
Reviewed by: Gary Smithson MD
Reviewed on: April 14, 2020
This summary was written as part of the CoRESPOND Earth 2.0 COVID-19 Rapid Response at UC San Diego. For more information about the project, please visit http://earth2-covid.ucsd.edu
References
Zhou F, Yu T, Du R, et al. Clinical course and risk factors for mortality of adult inpatients with COVID-19 in Wuhan, China: a retrospective cohort study. Lancet. 2020;395(10229):1054-1062. [PMID:32171076]

Rabin RC. In Italy, Coronavirus Takes a Higher Toll on Men. The New York Times. https://www.nytimes.com/2020/03/20/health/coronavirus-italy-men-risk.html. Published March 20, 2020. Accessed April 26, 2020.

Korean Society of Infectious Diseases, Korean Society of Pediatric Infectious Diseases, Korean Society of Epidemiology, et al. Report on the Epidemiological Features of Coronavirus Disease 2019 (COVID-19) Outbreak in the Republic of Korea from January 19 to March 2, 2020. J Korean Med Sci. 2020;35(10):e112. [PMID:32174069]

Mooney C. Men are getting sicker, dying more often of covid-19, Spain data shows. Washington Post. https://www.washingtonpost.com/health/2020/03/26/men-are-getting-sicker-dying-more-often-covid-19-spain-data-shows/. Published March 26, 2020. Accessed April 26, 2020.

Goyal P, Choi JJ, Pinheiro LC, et al. Clinical Characteristics of Covid-19 in New York City. N Engl J Med. 2020. [PMID:32302078]

Deaths involving COVID-19, England and Wales - Office for National Statistics. Office for National Statistics. https://www.ons.gov.uk/peoplepopulationandcommunity/birthsdeathsandmarriages/deaths/bulletins/deathsinvolvingcovid19englandandwales/deathsoccurringinmarch2020. Published April 16, 2020. Accessed March 24, 2020.

Cai G. Tobacco-Use Disparity in Gene Expression of ACE2, the Receptor of 2019-nCov. February 2020. doi:10.20944/preprints202002.0051.v1

Shastri A, Wheat J, Agrawal S, et al. Delayed clearance of SARS-CoV2 in male compared to female patients: High ACE2 expression in testes suggests possible existence of gender-specific viral reservoirs. medRxiv. April 2020:2020.04.16.20060566. doi:10.1101/2020.04.16.20060566

Krueger A. Where Women Are Ahead of Men: Hand Washing. The New York Times. https://www.nytimes.com/2020/03/17/us/women-men-hand-washing-coronavirus.html. Published March 17, 2020. Accessed April 26, 2020.

Badawi A, Ryoo SG. Prevalence of comorbidities in the Middle East respiratory syndrome coronavirus (MERS-CoV): a systematic review and meta-analysis. Int J Infect Dis. 2016;49:129-33. [PMID:27352628]
Channappanavar R, Fett C, Mack M, et al. Sex-Based Differences in Susceptibility to Severe Acute Respiratory Syndrome Coronavirus Infection. J Immunol. 2017;198(10):4046-4053. [PMID:28373583]
Murphy AJ, Guyre PM, Pioli PA. Estradiol suppresses NF-kappa B activation through coordinated regulation of let-7a and miR-125b in primary human macrophages. J Immunol. 2010;184(9):5029-37. [PMID:20351193]
Zhang X, Wang L, Zhang H, et al. Estrogen inhibits lipopolysaccharide-induced tumor necrosis factor-alpha release from murine macrophages. Methods Find Exp Clin Pharmacol. 2001;23(4):169-73. [PMID:11676224]
Li LQ, Huang T, Wang YQ, et al. COVID-19 patients' clinical characteristics, discharge rate, and fatality rate of meta-analysis. J Med Virol. 2020. [PMID:32162702]
Report Sulle Caratteristiche Dei Pazienti Deceduti Positivi a COVID-19 in Italia Il Presente Report è Basato Sui Dati Aggiornati al 17 Marzo 2020. Instituto Superiore di Sanita https://www.epicentro.iss.it/coronavirus/bollettino/Report-COVID-2019_17_marzo-v2.pdf.