Coronavirus COVID-19 for Clinicians | Webinar Video
Updated: March 12, 2020 07:20 EDT
COVID-19 Webinar Video for Clinicians
Unbound Medicine presents
COVID-19: What We are Learning About this New Coronavirus
Paul Auwaeter, MD, MBA
Professor of Medicine
Clinical Director, Division of Infectious Diseases
Johns Hopkins University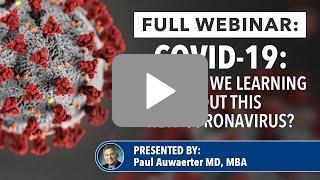 Recorded on March 10th, 2020 12:00 PM EST
In this 30-minute webinar, Paul Auwaerter, MD, MBA, Professor of Medicine at Johns Hopkins University, provides a thorough overview of Coronavirus COVID-19 (SARS-CoV-2) and how utilizing updated, authoritative, and evidence-based resources, such as the Johns Hopkins ABX Guide, can improve patient care.
Covers:
Myths and facts of this coronavirus outbreak
Expectations for the coming days, weeks, and months in the U.S.
Evidence-based clinical guidance including diagnosis, treatment, and prevention
Webinar Questions and Answers
ANSWERS WILL BE GIVEN SHORTLY
Additional questions should be sent to: webinars@unboundmedicine.com
Q: Any recommendations on triaging in a primary care setting?
Q: Why is this not affecting children? I've "heard" that it is because children have higher amounts of surfactant thus giving them a little more protection against the respiratory component... is this true?
Q: Any comments on the experimental treatment such as RDV, Kaletra plus RBV/INf beta, chloroquine?
Q: We have strong reason to believe that we may have seen a case of this in late December and did not recognize it because of the timing. Is there any utility in having this identified? Is there even a way to determine if this patient had the infection 2 months ago?
Q: What is an effective message to convince the public that masks are ineffective and shouldn't be hoarded?
Q: Are pregnant women more susceptible and have there been any effects to the fetus?
Q: Does it make sense for a pt on immonosuppressants for IBD (working in healthcare setting) to go off of them for fear of being susceptible to COVID-19?
Q: Would you please speak to risks in pregnancy and any unique advisement for this population?
Q: How long does virus last on hard surfaces?
Q: Are patients on Ace inh./ARBs more succeptible to severe disease?
Q: What have we learned re R0 from various experiences in NA... ie nursing home in BC, Cruise ships with close exposure...
About the Presenter


PAUL AUWAERTER, MD, MBA
Paul G. Auwaerter is the Sherrilyn and Ken Fisher Professor of Medicine at the Johns Hopkins University School of Medicine serving as the Clinical Director for the Division of Infectious Diseases and Director of the Sherrilyn and Ken Fisher Center for Environmental Infectious Diseases.
He serves as the Executive Director of the Johns Hopkins Point of Care-Information Technology (POC-IT) Center producing the Johns Hopkins Guides – Antibiotic (ABX) (Antibiotic), HIV, Osler, Psychiatry and Diabetes Guides. In 2018, Dr. Auwaerter served as President for the Infectious Diseases Society of America, the largest professional society worldwide related to infectious diseases.