Dominican Republic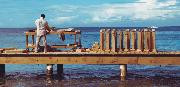 Destination Overview
The Dominican Republic covers the eastern two-thirds of the Caribbean island of Hispaniola; the other third is covered by Haiti. It is the second largest Caribbean nation, both by area and population. The capital city, Santo Domingo, is located on the southern coast of the island (see Map 4-7). Spanish is the official language, although English is spoken in most tourist areas. More than 100,000 American citizens live in the Dominican Republic, and in 2015 it was the most visited destination in the Caribbean, with more than 5 million foreign tourists including approximately 3 million from the United States or Canada.
Map 4-7. Dominican Republic destination map
The Dominican Republic offers a diverse geography of beaches, mountain ranges (including the highest point in the Caribbean, Pico Duarte [10,164 ft; 3,098 m]), sugar cane and tobacco plantations, and farming areas. The average temperature ranges from 73.5°F (23°F) in January to 80°F (26.5°F) in August. The island receives more rain from May through November, and tropical storms or hurricanes are a possibility. Most of the tourism is concentrated in the east of the country around Punta Cana, which offers all-inclusive beach resorts. Whale watching is popular seasonally near the northeastern area in Samana, and kite- and wind-surfing attract visitors to the northern areas of Puerto Plata, Sosua, and Cabarete. A small number of travelers visit other parts of the country, where tourist infrastructure is limited or nonexistent. The capital city, Santo Domingo, has an attractive colonial district that contains many historical sites dating back to Christopher Columbus's arrival in the New World. A highway completed in 2014 connects Punta Cana to Santo Domingo and is expected to increase tourism in the capital.
Health Issues
Vaccine-Preventable Diseases
All travelers should be up-to-date on routine vaccinations, including seasonal influenza. Cases of vaccine-preventable diseases have been reported among the local population and unvaccinated tourists from Europe and other parts of the world.
Travelers should also be vaccinated against hepatitis A and, depending upon the traveler's itinerary and activities, typhoid—especially those who are staying with friends or family. Hepatitis B vaccine is recommended for people who might be exposed to blood through needles or medical procedures or bodily fluids during sexual intercourse with a new partner.
Cases of rabies among animals continue to be reported in the Dominican Republic, and several human cases of rabies have been reported over the past few years. In 2015, there were 80 cases of animal rabies and 2 human rabies cases. Travelers potentially at risk for animal bites (such as those undertaking outdoor pursuits, working with or around animals, taking long trips or moving to the Dominican Republic, or children who may play with animals) should be vaccinated against rabies before travel.
Although cholera was reintroduced to the Dominican Republic in 2010, disease transmission is mostly limited to poor, urban areas or certain rural communities. Although extremely rare in travelers, cholera is a possible risk in parts of the Dominican Republic. Cholera vaccine is recommended for adult travelers visiting an area with cholera activity within the last year that is prone to recurrence of cholera epidemics.
HIV and Other Sexually Transmitted Diseases
Commercial sex work occurs throughout the Dominican Republic, and some locations, such as Sosua and Puerto Plata, are known as sex tourism destinations. HIV prevalence among female commercial sex workers is as high as 6% in some areas; syphilis (12%), hepatitis B virus (2.4%), and hepatitis C virus (0.9%) are also concerns. Among men who have sex with men, HIV prevalence is as high as 6.9% and active syphilis as high as 13.9%. Travelers should avoid sexual intercourse with commercial sex workers and always use condoms with any partner whose HIV or sexually transmitted disease status is unknown.
Vectorborne Diseases
Zika, chikungunya, dengue, and malaria are potential concerns for travelers to the Dominican Republic. All travelers should take precautions to prevent mosquito bites by wearing long- sleeved shirts and long pants and using insect repellent. See Chapter 2, Protection against Mosquitoes, Ticks, & Other Arthropods for more information.
The malaria in the Dominican Republic is not drug-resistant. CDC recommends that travelers to the Dominican Republic take malaria chemoprophylaxis unless they are only visiting the urban areas of Santiago or Santo Domingo. Dengue is widespread throughout the Dominican Republic; 16,871 cases were reported in 2015, of which 103 were fatal (case-fatality ratio, 0.61). Although cases of dengue are reported year-round, transmission frequently increases during the rainy season from May through November. The mosquito vector for dengue is found in urban as well as rural areas. Chikungunya was introduced to the Dominican Republic in 2014.
The first cases of local vectorborne Zika virus transmission were reported in the Dominican Republic in 2016, which emphasizes the need for mosquito precautions. Because of the risks to pregnancy, travelers should consult the CDC Travelers' Health website (www.cdc.gov/travel) for the most current recommendations for Zika.
Food and Water Safety
Travelers should only drink water that is purified or bottled. Ice served in well-established tourist locations is usually made from purified water and safe to consume. However, ice may not be safe in remote or nontourist areas. Food hygiene at large, all-inclusive, and popular tourist locations has improved over the last few years. However, travelers' diarrhea continues to be the most common problem for visitors to the Dominican Republic. Food purchased on the street or sold on beaches by informal sellers presents a higher risk of illness. Tourists are advised not to eat raw or undercooked seafood in the Dominican Republic.
Sun and Heat Safety
Visitors to the Dominican Republic often underestimate the strength of the sun and the dehydrating effect of the humid environment. Visitors should take precautions to avoid sunburn by wearing hats and suitable clothing, along with proper application of a broad-spectrum sunscreen with an SPF ≥15 that protects against both UVA and UVB. Travelers should also drink plenty of fluids throughout the day.
Safety and Security
Driving in the Dominican Republic is hazardous. Traffic laws are rarely enforced, and drivers commonly drive while intoxicated, text while driving, exceed speed limits, do not respect red lights or stop signs, and drive without seatbelts or helmets. The Dominican Republic has among the highest number of traffic deaths per capita in the world (41.7 per 100,000 population). Many fatal or serious traffic crashes involve motorcycles and pedestrians. Motorcycle taxis, which are used throughout the country, including in tourist areas, frequently carry 2 or more passengers without helmets. Visitors should avoid motorcycle taxis, use only licensed taxis, and always wear a seatbelt.
Foreign tourists may become victims of crime in the Dominican Republic. The risks are similar to most major US cities. Although much crime affecting tourists involves robbery or pickpocketing, more serious assaults occasionally occur, and criminals may react violently if resisted. Visitors to the Dominican Republic should follow normal precautions such as going out in groups, especially at night; using only licensed taxi drivers; drinking alcohol in moderation; and being cautious of strangers. Criminal activity is often higher in the Christmas and New Year season, and additional caution is advised during those months.
Medical Tourism
The market for medical tourism, including plastic surgery and dental care, is growing in the Dominican Republic and attracts thousands of patients each year to access medical services that cost a fraction of what they do in the United States. Several companies and clinics offer package deals that include postsurgical recovery at a tourist resort. Most health care facilities catering to medical tourists in the Dominican Republic have not met the standards required by international accreditation organizations. Outbreaks of health care–associated infections, medical malpractice, and even deaths have been reported among foreign visitors traveling to the Dominican Republic for medical tourism. People considering traveling to the Dominican Republic for medical procedures, including plastic surgery or dental care, should consult with a health care provider before travel and consider whether foreign health care providers meet quality standards of care (see Chapter 2, Medical Tourism).
Authors
Nelson Arboleda, Oliver W. Morgan