Thailand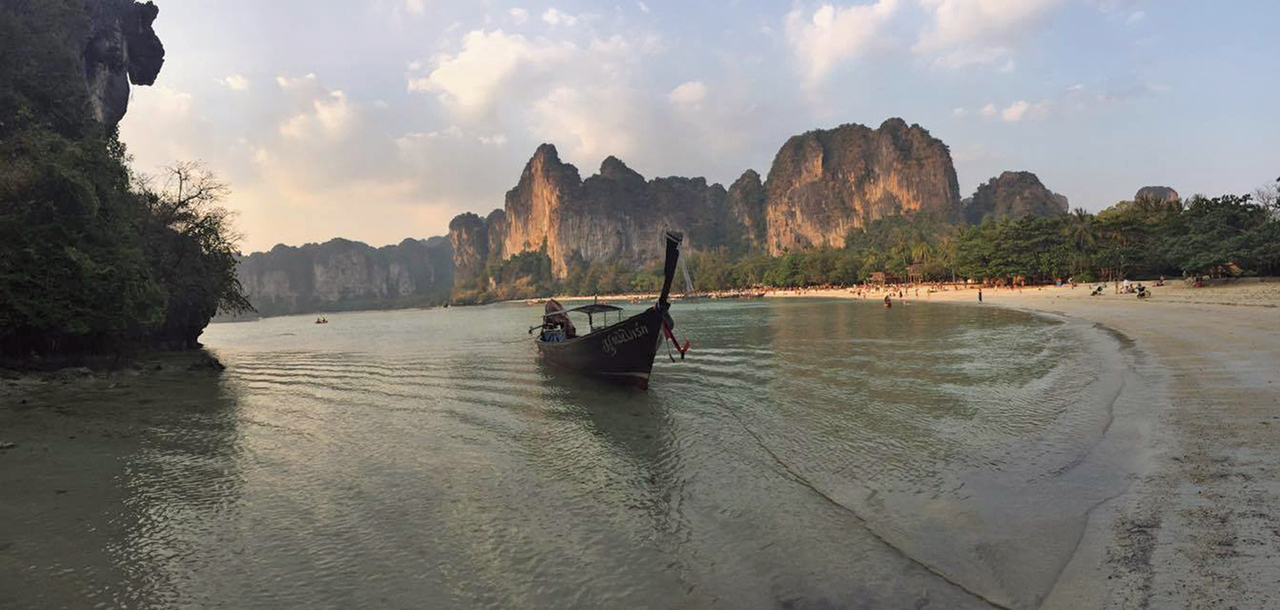 Destination Overview
Known as "the Land of Smiles," Thailand is a popular destination because of its warm and welcoming reception of tourists and expatriates, beautiful beaches, delicious cuisine, excellent shopping, fabulous golf courses, exciting nightlife, and exotic adventure opportunities. Many travelers also visit Thailand for business, and the country has become a regional business hub. In 2015 more than 29 million visitors spent more than 1 night in Thailand, and the number of visitors continues to grow. Thai is a melodic, tonal language that can be difficult to learn. Luckily, English is commonly spoken at most popular destinations in Thailand. Road signs, maps, and tourist guides provide information in English and Thai.
With close to 68 million people and 76 political provinces, Thailand is a geographically diverse country a little smaller than the state of Texas (Map 4-15). Because Thailand is close to the equator, the climate is tropical and often hot and humid. Flooding is always a possibility in Thailand, and various regions are prone to flash floods. Monsoon rains fall from July through October and can last until cooler, drier weather comes in November, making November through February a popular time of year to visit. Thailand's central location and major international airport in Bangkok make it an easy access point for other destinations in Asia.
Map 4-15. Thailand destination map
More than 9 million people live in the capital city of Bangkok, a major metropolis and center of commerce. Bangkok is a mix of old and new—skyscrapers and waterways, bustling city streets full of people, vendors, dogs, uneven sidewalks, and lots of traffic, in contrast to the fast, quiet, and modern monorail and subway systems. Tourists visit historic sites of glittering grandeur such as one of Bangkok's many Buddhist temples or the Grand Palace to catch a glimpse of the Emerald Buddha. The main artery of Bangkok is the Chao Phraya River and its canals, which provide access to tourist sites, boat tours, the floating market, and restaurants. Bangkok is a paradise of culinary delights, from local fare at a sidewalk noodle stand to a fancy 5-star meal in a restaurant. Rounding off a visit to Bangkok, many tourists will enjoy the pleasures of Thai nightlife, which includes a variety of bars and pubs, dance clubs, drag shows, and the famous red-light districts of Soi Cowboy, Nana, and Patpong.
Visitors to Thailand will also likely visit Chiang Mai in northern Thailand. The city, surrounded by a moat and defensive wall, has more than 300 temples, a popular night bazaar for great shopping, and easy access to the handicraft villages, elephant nature parks, and outdoor adventures that are popular in the region.
Over the years, medical tourism to Thailand has increased, as the costs for treatment are much lower and the quality of care is generally good. In addition, Thailand has a large expatriate community and has also become a popular destination for retirees from around the world. The warm climate and low cost of living make Thailand an attractive place to live.
Health Issues
Vaccine-Preventable Diseases
All travelers should be up-to-date on their routine vaccinations. In addition, travelers to Thailand should also be vaccinated against hepatitis A and hepatitis B. Typhoid and Japanese encephalitis vaccines should be considered based on potential risk.
Rabies
Government-sponsored mass vaccination campaigns for dogs and cats have reduced the prevalence of rabies in Thailand, but rabies is still a small risk. Preexposure vaccination is only recommended for travelers who have an occupation that puts them at risk for exposure (such as veterinarians) or who will be traveling in areas where it will be difficult to get immediate access to care, including biologics (see Chapter 3, Rabies). Hospitals and clinics in Bangkok cater to the expatriate community and medical tourists, and rabies vaccine is readily available for preexposure and postexposure prophylaxis, although not all hospitals in Thailand carry human rabies immune globulin.
Japanese Encephalitis
Japanese encephalitis (JE) is endemic throughout Thailand (see Chapter 3, Japanese Encephalitis). Transmission occurs year-round, with seasonal epidemics from May through October in the northern provinces. JE vaccine is recommended for travelers who plan to visit Thailand for ≥1 month and should be considered for those visiting for a shorter period but who have an increased risk of JE virus exposure due to their itineraries or activities. The highest rates of human disease have been reported from the Chiang Mai Valley. Several cases have been reported among travelers who visited resort or coastal areas of southern Thailand.
Cholera
Although extremely rare in travelers, cholera is a possible risk in parts of Thailand. Cholera vaccine is not routinely recommended for most travelers on typical tourist itineraries, but it is recommended for adult travelers visiting an area with cholera activity within the last year that are prone to recurrence of cholera epidemics.
Vectorborne Diseases
Malaria
Malaria is endemic in specific areas of Thailand, particularly the rural, forested areas that border Burma (Myanmar), Cambodia, and Laos and the provinces of Kalasin, Krabi (Plai Phraya district), Nakhon Si Thammarat, Narathiwat, Pattani, Phang Nga (including Phang Nga City), Rayong, Sakon Nakhon, Songkhla, Surat Thani, and Yala, especially the forest and forest fringe areas of these provinces. Prophylaxis is recommended for travelers visiting any of these areas (see Chapter 3, Malaria). Transmission in Thailand occurs year-round, and most cases are due to Plasmodium falciparum , with the rest due to P. vivax or mixed infection. Atovaquone-proguanil or doxycycline are the recommended antimalarial drugs for travelers in Thailand.
Dengue
Dengue is endemic throughout Thailand (see Chapter 3, Dengue) with large epidemics that occur every several years. Peak transmission occurs during the rainy season, although cases occur year-round even in non-epidemic years. Travelers to Thailand should take measures to protect themselves from daytime mosquito bites to prevent dengue (see Chapter 2, Protection against Mosquitoes, Ticks, & Other Arthropods).
Zika
Zika is endemic in Thailand, but the risk to travelers is believed to be low. Because of the risk of birth defects in babies born to women who were infected with Zika while pregnant, women who are pregnant should not travel to Thailand. If they decide to travel to Thailand, they should strictly follow steps to prevent mosquito bites. Travelers should consult the CDC Travelers' Health website (www.cdc.gov/travel) for the most current recommendations for Zika. See Chapter 3, Zika.
Travelers' Diarrhea
Although the Thai government and several nongovernmental organizations are leading projects to provide clean water across Thailand, and some hotels use their own filtration systems, water and food may still contain harmful bacteria and other contaminants. Travelers should practice food and water precautions and bring an antibiotic for self-treatment of moderate to severe diarrhea. Because fluoroquinolone resistance is widespread in Thailand and other areas of Southeast Asia, azithromycin may be preferred (see Chapter 2, Travelers' Diarrhea).
Water and Soil Diseases
Melioidosis is highly endemic in northeast Thailand, and the highest number of leptospirosis cases can be found in the southern and northeastern regions of the country. For both diseases, most cases occur during the rainy season from July through October. Adventure travelers may be at increased risk because of their exposure to water and soil. Travelers who visit endemic areas should avoid contact with soil and water that could be contaminated and ensure that any open wounds are covered to prevent exposure. When contact cannot be avoided, travelers should wear protective clothing and footwear to reduce the risk of exposure. Skin lacerations, abrasions, or burns that have been contaminated with soil or surface water should be immediately and thoroughly cleaned.
Other Health and Safety Risks
Medical Tourism
Thailand is among the top medical tourist destinations worldwide. Travelers who plan to seek medical care in Thailand should be advised to research facilities and develop a plan before departure, learn about health insurance coverage, and evaluate their health before making the trip (see Chapter 2, Medical Tourism).
Sexually Transmitted Diseases and HIV/AIDS
Thailand is a popular destination for sex tourism (see Chapter 3, Perspectives : Sex & Tourism) and, although illegal, sex work is practiced openly across the country. A 100% condom program with sex workers helped slow the spread of HIV and other sexually transmitted diseases; however, approximately 450,000 people were living with HIV/AIDS in Thailand in 2014. Although the number of new HIV infections has been decreasing, HIV remains concentrated in key populations. Travelers should be aware of these risks and always use condoms during sex with partners whose HIV status is unknown.
Safety and Security
Approximately 14,000 people are killed on the roads in Thailand each year, and a substantial proportion (73% in 2012) are killed in motorcycle crashes. Motorcycles are a cheap, easy, and popular mode of transportation, but they are also the most vulnerable vehicles on the road (see Chapter 2, Injury Prevention). Travelers should avoid riding motorcycles. If they must ride, they should wear a helmet. Travelers should fasten seat belts when riding in cars.
Thailand has experienced intermittent periods of political unrest throughout the country and ethnonationalist violence in the southern provinces. In 2014, a caretaker military government was established to maintain peace, develop a constitution, and facilitate democratic elections. However, the country remains politically divided, and travelers should be aware of the possibility of demonstrations, pay attention to the local news, and monitor the US embassy website (http://bangkok.usembassy.gov) and social media outlets to find out if and where protests and demonstrations may occur. Travelers should avoid these locations, since no one can predict whether protests will stay peaceful or turn violent.
Bibliography
Bureau of Epidemiology, Ministry of Public Health, Thailand. National disease surveillance (report 506): Leptospirosis. Bangkok: 2014 2014 Sep 22. Available from: http://www.boe.moph.go.th/boedb/surdata/506wk/y57/en/d43_0957_en.pdf
Central Intelligence Agency. The World Fact Book 2013-14. Washington, DC: CIA; 2013 [updated 2016 Sep; cited 2016 Apr. 9]; Available from: https://www.cia.gov/library/publications/the-world-factbook/geos/th.html.
Chanlett-Avery E, Dolven B. Thailand: background and US relations. Washington, DC: 2014 2014 Sep 22. Report No.: RL32593.
Department of Tourism, Ministry of Tourism and Sports. International tourist arrivals to Thailand in 2015. Bangkok, Thailand: Ministry of Tourism and Sports; 2015 [cited 2016 Apr. 2]; Available from: http://www.tourism.go.th/home/details/11/221/24710.
Gongal G, Wright AE. Human rabies in the WHO Southeast Asia Region: forward steps for elimination. Adv Prev Med. 2011;Article ID 383870:1–5.
Joint Commission International (JCI) [Internet]. JCI-accredited organizations. Oak Brook (IL): JCI; 2016 [cited 2016 Sep. 25]; Available from: www.jointcommissioninternational.org/about-jci/jci-accredited-organizations/.
National AIDS Committee, Royal Thai Government. Thailand ending AIDS: Thailand AIDS response progress report 2015. Geneva: UNAIDS, 2015 Apr 2.
World Health Organization. Global status report on road safety 2015. Geneva: 2015 2016 Apr 9. Report No. 978 92 4 156506 6.
Authors
Gabrielle A. Benenson, Michael W. Benenson
Citation
Brunette, Gary W., editor. "Thailand." CDC Yellow Book, Centers for Disease Control and Prevention, 2018. Relief Central, relief.unboundmedicine.com/relief/view/cdc-yellow-book/204150/all/Thailand.
Thailand. In: Brunette GW, ed. CDC Yellow Book. Centers for Disease Control and Prevention; 2018. https://relief.unboundmedicine.com/relief/view/cdc-yellow-book/204150/all/Thailand. Accessed April 8, 2020.
Thailand. (2018). In Brunette, G. W. (Ed.), CDC Yellow Book. Centers for Disease Control and Prevention. Retrieved April 08, 2020, from https://relief.unboundmedicine.com/relief/view/cdc-yellow-book/204150/all/Thailand
Thailand [Internet]. In: Brunette GW, editors. CDC Yellow Book. Centers for Disease Control and Prevention; 2018. [cited 2020 April 08]. Available from: https://relief.unboundmedicine.com/relief/view/cdc-yellow-book/204150/all/Thailand.
* Article titles in AMA citation format should be in sentence-case
TY - ELEC T1 - Thailand ID - 204150 ED - Brunette,Gary W, BT - CDC Yellow Book UR - https://relief.unboundmedicine.com/relief/view/cdc-yellow-book/204150/all/Thailand PB - Centers for Disease Control and Prevention DB - Relief Central DP - Unbound Medicine ER -