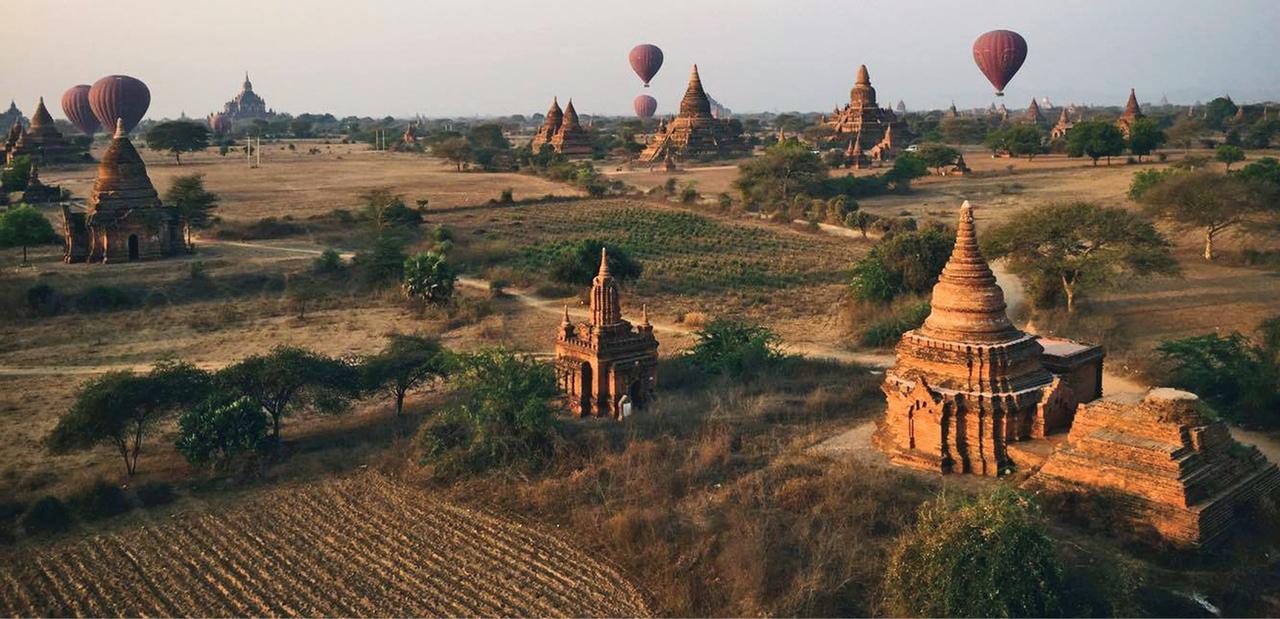 Destination Overview
Burma (also called Myanmar) offers travelers a mix of traditional and modern culture. Nearly all visitors to this country come to see the classic golden temples of Rangoon (Yangon), Burma's former capital and its largest city. Visitors here may also enjoy strolling colonial-era parks and shopping at Bogyoke Aung San Market. The city's influences include British, Chinese, and Indian. Those wanting a glimpse of rural life can get it with a short ferry ride across the Yangon River to Dala or by riding the circle train that makes a loop just north of the city.
Many tourists are now taking advantage of improving domestic bus and air service to explore other parts of the country. International flights to Mandalay are available from neighboring China, Singapore, and Thailand. Burma's varied geography includes highlands, plains, beaches, and more than 800 islands. Several climate zones are found along its river basins and mountain ranges. That diversity extends to languages, which number more than 100. Of the country's more than 56 million people, about two-thirds can speak or understand Burmese. English is widely spoken in popular visitor destinations, where visitors often remark on the hospitality and generosity of their hosts.
Religious sites and ancient cities, with their temples and festivals, attract many of Burma's tourists. Unique architecture and heritage combine at places like Bagan, Bago, Kyaiktiyo, and Mrauk U. Nature-based activities such as boating, trekking, and cycling are easily arranged around Inle or Hsipaw in hilly Shan State, home to a thrilling train ride across the Goteik Viaduct. River cruises along the Ayeyarwady begin or end in Mandalay (Map 10-11). Meditation retreats are also widespread.
Climate varies depending on season and elevation. During the dry months between November and February, Rangoon and southern Burma average 80°F (27°C) during the day. Further north in that season, nighttime temperatures can drop to 45°–50°F (8°–10°C). Hot season (March to May) and rainy season (June to October) are well named.
Local dishes such as mohinga (rice noodles in fish soup), curries, and salads appeal to many visitors, yet dietary caution is advised. Sanitation and clean water access may be inadequate, especially in secondary towns and rural areas.
After decades of authoritarian rule, economic isolation, and ethnic conflict, the country's governance and people remain mostly poor. While enjoying Burma's colorful and rustic aspects, visitors may do well to attempt an understanding of the country's society, human rights, and environment, and tourism's potential impact on them.
Map 10-11. Burma (Myanmar) destination map
Health Issues
Vaccine-Preventable Diseases
Routine Immunizations
Travelers to Burma should be up-to-date on routine vaccines, including measles-mumps-rubella (MMR), diphtheria-tetanus-pertussis, varicella (chickenpox), polio, and influenza. Influenza exhibits a seasonal pattern with peaks occurring from June through September, overlapping with the typical rainy season.
Other Vaccinations
Hepatitis A is transmitted by contaminated food or water or person to person through the fecal–oral route and is endemic to Burma; susceptible travelers should be vaccinated (see Chapter 4, Hepatitis A). Travelers can also reduce the risk of hepatitis A infection by following recommendations for safe food and water (see Chapter 2, Food & Water Precautions).
The prevalence of hepatitis B infection in Burma has been estimated to be lower intermediate. Hepatitis B vaccination is recommended for travelers before departure, and it is especially important to vaccinate anyone engaging in activities that increase the risk of exposure to blood or body fluids: unprotected sexual contact, injection drug use, tattooing, or providing or receiving medical care. However, it can be difficult to predict which travelers will have such exposures.
Typhoid and other diseases transmitted by contaminated food and water are common, and typhoid vaccine is recommended (see Chapter 4, Typhoid & Paratyphoid Fever).
Rabies vaccination is recommended for travelers participating in outdoor activities that could increase their risk of animal bites, such as camping or caving. Vaccination is also recommended for travelers working with animals (e.g., veterinarians), people taking long trips or moving to Burma, and young children, for whom it can be difficult to prevent interaction with dogs or other animals (see Chapter 3, Animal Bites & Stings).
Japanese encephalitis (JE) is presumed to be endemic throughout Burma, so travelers should take precautions to avoid mosquito bites (see Chapter 3, Mosquitoes, Ticks & Other Arthropods). Travelers should consider vaccination for JE if they will be in country for >1 month or if their itineraries include higher-risk activities such as spending substantial time in rural areas; outdoor activities such as camping, hiking, or farming; or staying in accommodations without air conditioning, window or door screens, or bed nets (see Chapter 4, Japanese Encephalitis).
Active cholera transmission has been reported from Myanmar in recent years. Check the destination page at www.cdc.gov/travel for current recommendations.
Malaria and Other Vectorborne Diseases
Malaria is present in all areas of Burma below 3,281 ft (1,000 m) elevation, including the ancient capital city of Bagan. Risk to travelers is considered moderate. Malaria incidence in Burma exceeds that of neighboring countries in the Greater Mekong Subregion and is concentrated in and around forested areas. Drug-resistant malaria has been and continues to be a concern, and chemoprophylaxis recommendations vary accordingly (see Chapter 2, Yellow Fever Vaccine & Malaria Prophylaxis Information, by Country).
Other vectorborne infections endemic to Burma include dengue, chikungunya, and Zika. Because of the risk of birth defects in infants born to women infected with Zika during pregnancy, women who are pregnant or trying to become pregnant should research the most recent recommendations at www.cdc.gov/zika.
Leptospirosis
Leptospirosis is a bacterial disease usually transmitted through contact with water contaminated by the urine of infected animals (see Chapter 4, Leptospirosis). It occurs most commonly during the rainy season and has been associated with swimming, wading, kayaking, and rafting. Advise travelers to avoid contact with soil and water that could be contaminated and to cover any open wounds to prevent exposure. Skin wounds that have been contaminated with soil or water should be cleaned immediately and thoroughly.
Travelers' Diarrhea
Travelers' diarrhea is common among visitors to Burma (see Chapter 2, Travelers' Diarrhea). Instruct travelers to follow safe food and water precautions: eat food that is cooked and served hot (avoiding raw or undercooked foods), and drink only bottled water (see Chapter 2, Food & Water Precautions). Oral rehydration solution is helpful in case of severe diarrhea and is usually available in pharmacies.
Avian Influenza
Live bird markets, common in Burma, can be a source of avian influenza virus. Travelers should avoid visiting poultry farms, bird markets, and other places where live poultry are raised, kept, or sold and avoid preparing or eating raw or undercooked poultry products.
Other Health and Safety Risks
Road Traffic Injuries
Vehicular crashes are a leading cause of injury and death among travelers (see Chapter 8, Road & Traffic Safety). Remind people visiting Burma to use only reputable taxi or public transportation companies and to always wear seat belts. Motorcycles account for a high percentage of road traffic deaths and should be avoided. Pedestrians and bicyclists are also commonly victims of road traffic deaths and should exercise caution; right-of-way rules and infrastructure improvements (such as crosswalks or bike lanes) to protect these groups are often not followed or in place.
Heat-Related Illnesses
Average high temperatures in the hot season (March to May) can exceed 95°F (35°C) in many parts of the country, including popular tourist destinations such as Yangon, Mandalay, and Bagan. Prolonged heat exposure, especially for travelers in poor physical condition, elderly or very young travelers, those undertaking strenuous activity, and those not accustomed to heat, poses a risk for heat-related illnesses such as heat exhaustion or heat stroke (see Chapter 3, Extremes of Temperature). During periods of high heat, travelers should seek shade, drink ample water, and wear lightweight, loose, and light-colored clothing.
Health Care Access
Travelers with chronic medical conditions should not rely on being able to purchase or refill medications in Burma; counterfeit and substandard medications are common. International-standard medical care is rarely available, so treatment of chronic disease exacerbations or severe injuries can be suboptimal. Travelers should strongly consider medical evacuation insurance (see Chapter 6, Travel Insurance, Travel Health Insurance & Medical Evacuation Insurance).
Bibliography
Cui L, Yan G, Sattabongkot J, Cao Y, Chen B, Chen X, et al. Malaria in the Greater Mekong Subregion: heterogeneity and complexity. Acta Trop. 2012 Mar;121(3):227–39. [PMID:21382335]
Dapat C, Saito R, Kyaw Y, Naito M, Hasegawa G, Suzuki Y, et al. Epidemiology of human influenza A and B viruses in Myanmar from 2005 to 2007. Intervirology. 2009;52(6):310–20.
Hotez PJ, Bottazzi ME, Strych U, Chang LY, Lim YA, Goodenow MM, et al. Neglected tropical diseases among the Association of Southeast Asian Nations (ASEAN): overview and update. PLoS Negl Trop Dis. 2015;9(4):e0003575. [PMID:25880767]
Lo E, Nguyen J, Oo W, Hemming-Schroeder E, Zhou G, Yang Z, et al. Examining Plasmodium falciparum and P. vivax clearance subsequent to antimalarial drug treatment in the Myanmar-China border area based on quantitative real-time polymerase chain reaction. BMC Infect Dis. 2016 Apr 16;16(1):154. [PMID:27084511]
Ngwe Tun MM, Kyaw AK, Hmone SW, Inoue S, Buerano CC, Soe AM, et al. Detection of Zika virus infection in Myanmar. Am J Trop Med Hyg. 2018 Mar;98(3):868–71. [PMID:29363460]
Republic of the Union of Myanmar. The 2014 Myanmar population and housing census: highlights of the main results. Census Report. Nay Pyi Taw: Department of Population MoIaP;2015 May. Available from: http://myanmar.unfpa.org/sites/asiapacific/files/pub-pdf/Census%20Highligh....
Schweitzer A, Horn J, Mikolajczyk RT, Krause G, Ott JJ. Estimations of worldwide prevalence of chronic hepatitis B virus infection: a systematic review of data published between 1965 and 2013. Lancet. 2015 Oct;386(10003):1546–55. [PMID:26231459]
Tun Win Y, Gardner E, Hadrill D, Su Mon CC, Kyin MM, Maw MT, et al. Emerging Zoonotic Influenza A Virus Detection in Myanmar: Surveillance Practices and Findings. Health Secur. 2017 Sep/Oct;15(5):483–93. [PMID:29016219]
World Health Organization. Global status report on road safety 2015. WHO; 2015 [cited 2018 April 27]. Available from: www.who.int/violence_injury_prevention/road_safety_status/2015/en/.
Authors
John Henderson, Henry C. Baggett
Citation
Brunette, Gary W., editor. "Burma (Myanmar)." CDC Yellow Book, Centers for Disease Control and Prevention, 2018. Relief Central, relief.unboundmedicine.com/relief/view/cdc-yellow-book/204508/all/Burma__Myanmar_.
Burma (Myanmar). In: Brunette GWG, ed. CDC Yellow Book. Centers for Disease Control and Prevention; 2018. https://relief.unboundmedicine.com/relief/view/cdc-yellow-book/204508/all/Burma__Myanmar_. Accessed December 8, 2023.
Burma (Myanmar). (2018). In Brunette, G. W. (Ed.), CDC Yellow Book. Centers for Disease Control and Prevention. https://relief.unboundmedicine.com/relief/view/cdc-yellow-book/204508/all/Burma__Myanmar_
Burma (Myanmar) [Internet]. In: Brunette GWG, editors. CDC Yellow Book. Centers for Disease Control and Prevention; 2018. [cited 2023 December 08]. Available from: https://relief.unboundmedicine.com/relief/view/cdc-yellow-book/204508/all/Burma__Myanmar_.
* Article titles in AMA citation format should be in sentence-case
TY - ELEC T1 - Burma (Myanmar) ID - 204508 ED - Brunette,Gary W, BT - CDC Yellow Book UR - https://relief.unboundmedicine.com/relief/view/cdc-yellow-book/204508/all/Burma__Myanmar_ PB - Centers for Disease Control and Prevention DB - Relief Central DP - Unbound Medicine ER -